We detect and document thermal anomalies in electrical equipment.
Infrared surveys are cost effective.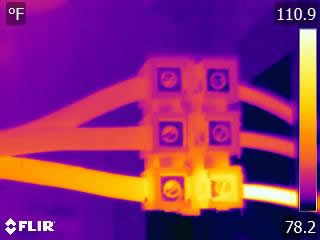 This is a non-destructive technology which causes no disruption of service…no shut down is required!

If you are a facility manager, maintenance manager, building owner…responsible for safety, production and repair at your facility, you cannot afford to be without a regular infrared (IR) thermographic survey of your electrical switchgear, distribution system and mechanical equipment.

The National Fire Protection Association (NFPA) 70B §11.17.5 suggests that every commercial and industrial building in the United States should have an IR survey at least once a year. Increasingly, insurance companies are requiring IR surveys of electrical and mechanical systems for their insured. Some companies may even offer discounts if you do.

Avoid costly downtime, lost production, unnecessary repairs, and dangerous catastrophic failures. Take advantage of Electrical Infrared Thermographic Surveys to increase uptime, productivity and profitability.

By far, the most popular and widely used application of infrared thermography is electrical switchgear testing. No other commercial application has achieved the level of interest than that of electrical infrared thermography. Daily, the electrical switchgear in thousands of buildings are checked by our thermographers all over the country. Electrical Infrared is now an integral part of any facility manager's preventative/predictive maintenance (P/PM) program.
Why Use Our Service?
Reduce Downtime
Increase Equipment Life
Lower Risks
Comply with Electric Codes
Lower Repair Costs
Increase profits
Save on Insurance
Prevent Catastrophic Failures
Save Lives!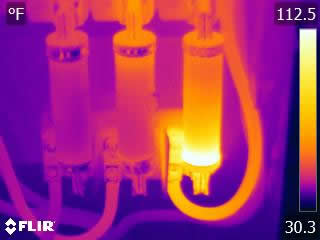 Back to Services